The Masonic | San Francisco, California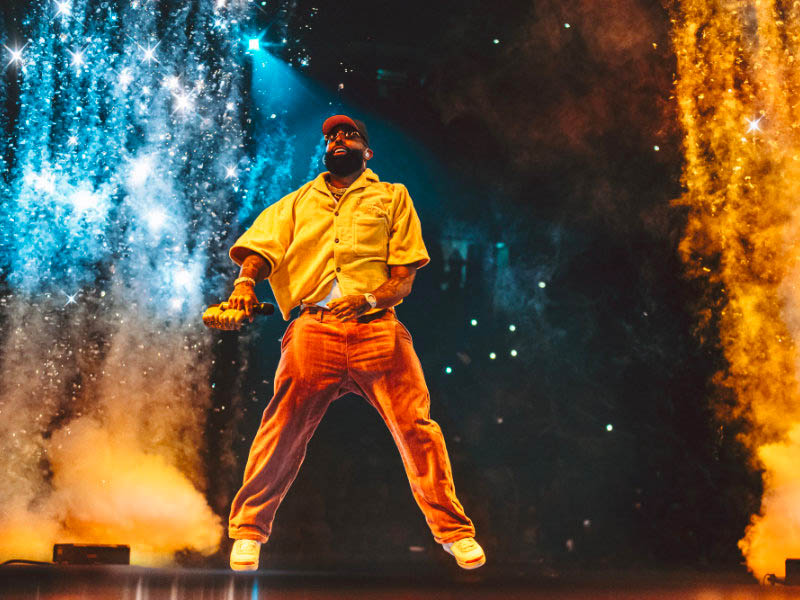 Eladio Carrion's The Sauce 2023 outing is set to be the year's most outstanding Latin music extravaganza! The celebrated Latin trip and reggaeton powerhouse has actually sold out many of his dates already, and his San Francisco stop is also anticipated to be fully packed! If you're keen on seeing his highly-awaited spectacle, now is the time to do something about it! Traversing across 16 cities this fall, Carrion is currently promoting his latest albums, Sauce Boyz 2 and 3men 2 Kbrm! Both albums entered the Billboard 200, with the latter reaching the Top 20! On Thursday, 2nd November 2023, Eladio Carrion drops by San Francisco to deliver his iconic hits! Fans can look forward to a plethora of hits, such as "3 Am," "Kemba Walker," and "Mbappe," as he takes over the Nob Hill Masonic! Attendees can also anticipate new hits, including "Coco Chanel" and "Si La Calle Llama." If you have a taste for reggaeton and Latin music, this is your opportunity to catch Eladio Carrion in San Francisco! Hurry and score tickets now before they're gone!
Enjoy great Latin rhythms and powerful reggaeton beats as the sensational Elado Carrion takes over North America this fall. The Kansas-born artist is currently making headlines with his Latin trap music! With 16 shows set for the second leg of his U.S. outing, Carrion is currently on his way to being one of the most highly celebrated Latin-American performers. Many of his dates have also sold out! Lucky for fans in San Francisco, his show at the Nob Hill Masonic on Thursday, 2nd November 2023, still has tickets available!
The Latin American rapper and singer is currently making waves across the U.S. and Spanish-speaking countries. His music showcases a unique blend of Latin trip fused with reggaeton. With roots in Humaccao, Puerto Rico, Eladio Carrion has created a plethora of soundscapes. These highly acclaimed works quickly rose in ranks on the Billboard Top Latin Album charts. His 2020 effort Sauce Boyz notably peaked at number 8 on the Billboard Latin charts and stayed there for ten consecutive weeks. That same year, his collaboration single with Bad Bunny, "Kemba Walker," earned Carrion his first Latin Grammy nomination under the category Best Rap/Hip Hop Song.
In 20201, Carrion dropped Monarca and Sauce Boyz 2. Monarca peaked at number 8 on the Latin Rhythm chart and also earned Carrion his second Latin Grammy nomination – this time for the category Mejo Album de Music Urbana. Meanwhile, Sauce Boyz 2, serving as a sequel to Sauce Boyz, became his first entry on the Billboard 200, landing at a humble number 9. But this feat marks his first breakthrough on the mainstream chart. The album features a number of incredible collaborations with Karol G, Jay Wheeler, Duki, Myke Towers, Nicky Jam, and many more.
This 2023, Eladio Carrion is making his mark on the U.S. mainstream market. His fourth album 3men2 Kbrm, features collaborations with Lil Wayne, 50 Cent, Bad Bunny, Quavo, Rich the Kid, and many more. The album also became his highest charting effort, peaking at number 16 on the Billboard 200.
Enjoy excellent Latin music this fall by securing tickets to see Eladio Carrion at the Nob Hill Masonic on Thursday, 2nd November 2023!